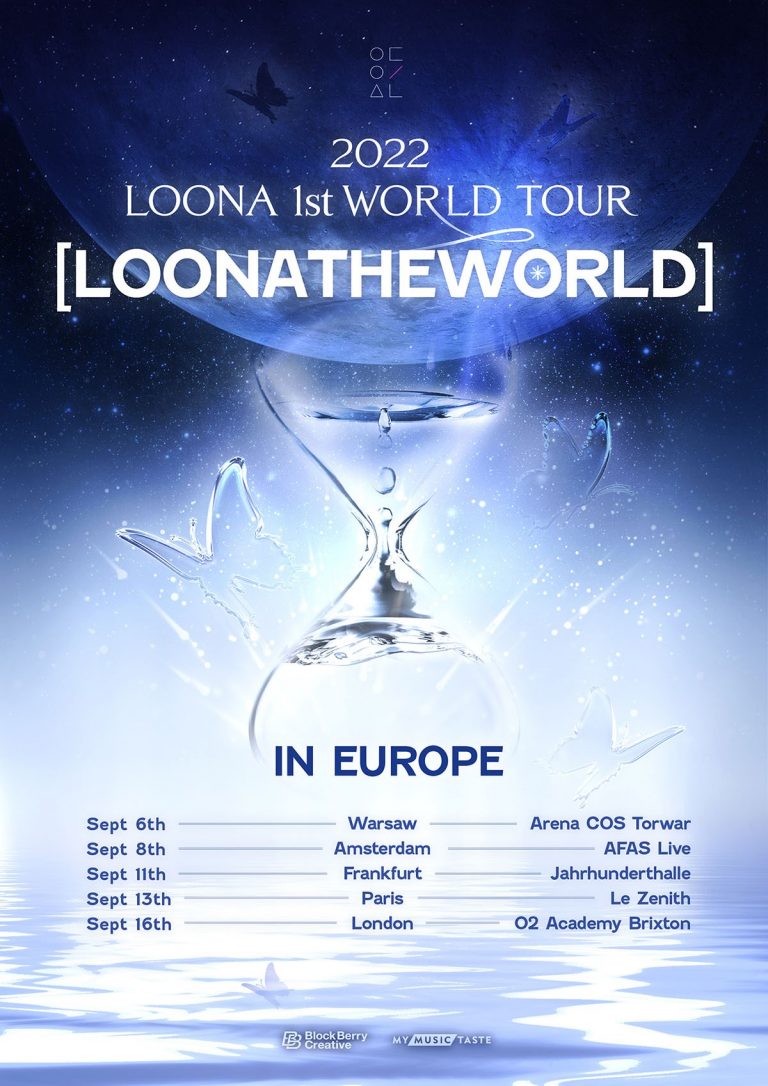 GLOBAL CHART DOMINATING K-POP ACT TO FINALLY MAKE THEIR LANDING IN EUROPE
SOLD OUT STOPS IN NORTH AMERICA WITH ADDED SHOWS, SET TO TAKE OVER FIVE CITIES IN EUROPE
K-pop's queens of musical lore, LOONA, announced the European leg of their 2022 LOONA 1st World Tour : [LOONATHEWORLD]. After taking on a full 14 shows in the Americas with sold out nights, the supergroup is ready to take on five cities in Europe, with stops in Warsaw, Amsterdam, Frankfurt, Paris, and London. Their European leg of the tour kicks off in Warsaw on September 6 and continues on through three more cities before reaching the last stop in London on September 16.
2022 LOONA 1st World Tour : [LOONATHEWORLD] sees the group make their first landing in Europe, a long awaited moment for fans of the group. It comes as no surprise that the tour itself was organized from the requests of many fans for the group to come to their city, concrete proof of their growing popularity.
The group stands as the epitome of mystery and allure in their concept storyline, seasoned with the charms of the different members that come together for the perfect combination of what makes K-pop unique. Even within the realm of K-pop, the girls stand tall in their distinctive personalities and charms – a dozen main characters, one for each month of the year.
The tour follows a successful first half of the year for LOONA who made their return to the big stage in front of an audience with 2022 이달의 소녀 CONCERT [LOONAVERSE : FROM] in Seoul back in February. From breaking their own first week sales with their recently released Summer Special Mini Album [Flip That] as well as dominating with No.1 on the iTunes Top Albums charts in at least 31 regions, the girls are set to bring their enchanting performances to Europe.
Information regarding presale and general ticketing for the shows can be found on https://mmt.fans/bFQS or through MyMusicTaste's social media channels.
2022 LOONA 1st World Tour : [LOONATHEWORLD] in EUROPE Dates:
September 6, 2022 – Warsaw / Poland / Arena COS Torwar
September 8, 2022 – Amsterdam / Netherlands / AFAS Live
September 11, 2022 – Frankfurt / Germany / Jahrhunderthalle
September 13, 2022 – Paris / France / Le Zenith
September 16, 2022 – London / United Kingdom / O2 Academy Brixton
ARTIST) About LOONA:
From their unique debut with staggered member reveals over the span of two years starting in 2016 to their official musical release of the song "Hi High" in August of 2018, LOONA has embraced the mysterious and lore driven concept of their group to become a name that represents the core of K-pop: performance, production, and addictive melodies. LOONA's twelve members: HeeJin, HyunJin, HaSeul, ViVi, YeoJin, Kim Lip, JinSoul, Choerry, Yves, Chuu, Go Won, and Olivia Hye create the blended mix of charms, talents, and personalities that brought catchy pop tunes like "Butterfly" to the top of the Billboard charts. Their 2020 releases of "So What" and "Why Not" continued their ranking on international music charts, making them a staple recommended K-pop group on multiple social media networks. They've stacked up achievements like their 2018 MTV Europe Music Awards win for Best Korean Act and their 2021 placement as having one of the most requested songs on radio shows. Their latest music video, "Flip That" has already garnered over 35 million views to date. The title track over their mini album of the same name also dominated the iTunes Top Albums charts with No.1s in 31 regions.
MANAGEMENT AGENCY) About Blockberry Creative:
Blockberry Creative is a South Korean record label formed in 2016. The label is home to the girl group LOONA. Blockberry Creative has lived up to its own name through the unique approaches of artists development and promotions.
PROMOTER) About MyMusicTaste:
MyMusicTaste is a fan initiated live event making service that brings fans, artists and promoters from all over the world together in one place to create a valuable and meaningful concert experience for everyone involved. MyMusicTaste puts the power in the fans' hands, allowing fans to request their favorite artist's concert in their city. With the mission to connect and amplify the voices of fans all over the world, MyMusicTaste successfully promoted concerts of artists such as EXO, GOT7, MONSTA X, The xx, Machine Gun Kelly, and more in over 57 different cities. With the simple idea–empowering fans to bring their favorite artist's concert in the city of their choice based on fan demand–MyMusicTaste is challenging the $27 billion concert market through cutting-edge technology and sophisticated, user-friendly service. Currently, www.mymusictaste.com supports more than 30 countries and offers 15 different languages.
For more about LOONA, visit:
Website: http://www.loonatheworld.com/
Facebook: loonatheworld
Instagram: @loonatheworld
Spotify: LOONA
TikTok: @loonatheworld
Twitter: @loonatheworld
YouTube: loonatheworld
#LOONA #MYMUSICTASTE #BlockberryCreative #LOONA1stWORLDTOUR #LOONATHEWORLD #kcrushnews ##HEEJIN #HYUNJIN #HASEUL #VIVI #YEOJIN #KIMLIP #JINSOUL #CHOERRY #YVES #CHUU #GOWON #OLIVEHYE #LOONAButterfly #LOONAFlipThat #LOONAWhyNot #inpersontour #LOONAConcert #LOONAfans #kpop #kpopmusic #kpopidols #kpopEuropeConcerts #kpopUSconcerts